---
Female
Samoyed Puppy

₦ 50,000
Age:
7 years 1 month old
Location:
Abuja, Prince & Princess Estate.
Date of Birth:
2016-02-20
Description
---
Beautiful Samoyed puppies with great looks and temperament. All puppies duely registered and well cared for. The all have golden color and soft fur making them very attractive and easily lovable. Both sexes available (male & female).
---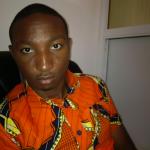 Kodichukwu Okonkwo
Member Since: August 18th, 2016
Location: Abuja
Click
here
to Learn how to Sell your dog anywhere in Nigeria.