---
Binggo dog food is no longer the savior
By
Kodichukwu Okonkwo, DVM
| February 26th, 2021
---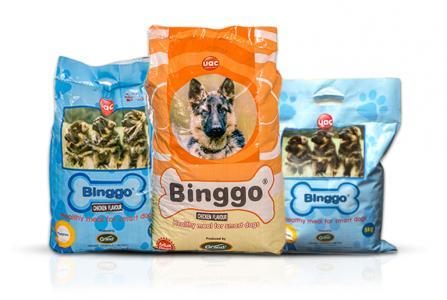 During the 2016 recession in Nigeria, I wrote an article to demystify the doubt people had about the indigenous dog food called Binggo. That article is titled: "Is Binggo dog food really good for your dog?" which has been read 18,000 times. I had tried to accept this dog food prior to the recession which led to an experiment which I did that confirmed to me the usefulness of this brand of dog food as an alternative to other known foreign-made brands whose prices skyrocketed. I went further to recommend this dog food to a lot of our clients and went further to write an article to recommend to other Nigerians who might wish to share in my discovery.
Binggo dog food brands have gone through a lot of transformations to improve this dog food by changing their packaging to a more acceptable and long-lasting type. This is quite commendable and applaudable able but other efforts need to be made to give consumers the satisfaction required.
In recent times, this dog food has not been consistent in its color and aroma. I have consistently used Binggo dog food since 2015 but from 2018 till date the dog food has failed to maintain the same color and smell. Sometimes my dogs eat a particular batch very well and in other times they abandon another batch completely. This has led to a lot of wastage.
There has been a problem with the sealing of the dog food bags direct from the factory. Distributors of this dog food will always want to make sure that the unsealed bags be mixed with the properly sealed ones complaining that the company has refused to solve this problem of unsealed bags of dog food. Many clients will buy this dog food only to complain of weevils being found inside the food. Of course, during storage, these insects somehow find their way into the food even before the end-users purchase them hence the complaint.
Binggo dog food has not been consistent with its size. Sometimes a 15kg bag will be weighing as low as 13kg and customers will always call to complain about this inconsistency. Someone once called to tell me that he has a particular storage bucket he uses and the level at which the food would reach previously is no longer where it gets to. This alternates, sometimes it's full and sometimes it's not full.
These are the few issues I have been seeing from this dog food that is difficult to comprehend. Sometimes I am not sure my dogs will like the batch of Binggo I am taking home. Sometimes I will have to buy another brand of dog food as an insurance cover just in case.
Having spoken to various distributors of this dog food for years without any change from the manufacturers, I decided to write this article just to see if anything will change. I just don't want to believe that anything made in Nigeria is always like that. I saw Binggo brand as an international brand made here in Nigeria but with this serious lack of quality control, my mind is changing from that belief. I just wish that UAC foods will do something urgently to correct these quality issues.
Lastly, the price is becoming very discouraging. The sudden change of price by the manufacturers is another cause for concern. Something that is manufactured in the country should be able to be affordable because a lot of bottlenecks have been removed eg. Shipping is mainly local and not international. Customs activities & international shipping is the biggest problem of international brands of dog foods that are sold here which impacts the prices.
I love Binggo dog food and I want them to get it right. I write this article to express my frustrations which is a shared frustration among users of this dog food. I hope they act fast.