---
How to make complete dog food at low cost
By
Kodichukwu Okonkwo, DVM
| March 14th, 2014
---
One of the biggest challenges of keeping dogs in Nigeria is their feeding requirement economically, nutritionally and conveniently. There are a lot of dog food varieties in the market with various brands at various alarming costs. In fact, with that, it has become a luxury to keep dogs. Available dog food is packaged in cans & bags all imported from U.K, USA, S.A, China etc. It is worrisome that like the chicken feed dog food is not produced on a commercial level as in other parts of the world. Importation of these dog foods has made the cost so high and unsustainable to pet owners in the country. Does that spell doom? No.
Is there an alternative to these commercial dog foods?
Yes. That is what we are going to be proffering here. There is a formulation popularly used by dog breeders living in Jos town in Plateau State of Nigeria. Jos is considered the major dog breeding town in Nigeria and by my calculation has more dog breeders than any state in Nigeria presently. Dog breeders in Jos not only breed dog for local distribution but also for export. So these breeders are not ready to spend so much to feed their dogs so they subscribe to an alternative called 'ACHA'. Acha, as it's called, is made from a byproduct called ACHA. The dog food we are going to be formulating is close to this 'Acha' but highly improved.
Problem with the regular 'Acha' dog food
Due to the high percentage of untrained personnel in the milling of this dog food, most of the 'acha' you see are of low quality and has low nutritional consideration or value. I have had situations where my clients would complain that his dog refused one set of acha dog food and ate another set favorably. This exposes the issue of inconsistency of the quality but all these are going to be addressed here.
Basic requirements
Here we have to consider materials or ingredients that are readily available to us in Nigeria at a very cheap cost like:
1. Corn CP 10.0%
2. Fish Meal CP 60%
3. Groundnut Cake CP 46%
4. Beans CP 23%
These ingredients above are the most commonly used ingredients to formulate this acha dog food except 'Acha' itself. I excluded it here because I can't determine its crude protein (CP) content although the CP provided above may not be 100% correct but it's not important right now what is important is knowing the principle of making complete food for your dog based on the overall crude protein (CP) you wish to achieve.
Crude protein content requirement
Crude protein is usually the primary focus of most animal feed being the source of the building blocks of life (i.e. Amino Acids). Most commercial dog foods come with crude protein of about 23-27% for adult dogs and 27-32% for puppies. Yes, puppies require more protein for development and growth while adult only requires protein for maintenance and body repairs.
Pearson's Square Method
This method is the most widely used method for calculating the crude protein combination of the various materials or ingredients available to you for your food formulation. It is used in the formulation of almost all livestock feed. So if you learn it now you can become a consultant doing it. It's simply based on a square called the Pearson's square. Take a glimpse. So let's use it to formulate our dog food using the ingredients provided above.
Calculating the crude protein
Let us formulate dog food for 27% crude protein which I believe can serve both puppies and adult dogs. We must recognize the restriction of Pearson's Square which is the fact that it only accommodates two ingredients at once.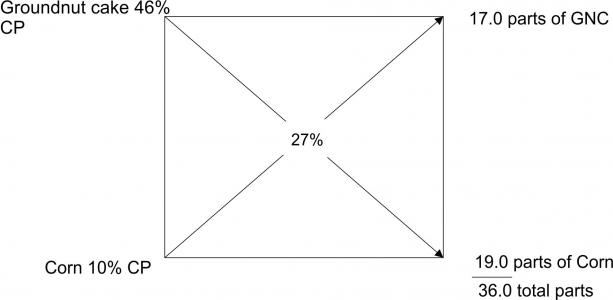 Here we want to assume we want only groundnut cake with crude protein 46% and corn with 10% crude protein. As you can see our target crude protein is 27% in the middle of the square. So we subtract diagonally by using the big value against the smaller values. No negatives are recognized. From the above, you can see that the value on the top right is the value for groundnut cake (17.0 parts) and the one at the bottom right is the value for corn (19.0 parts). You can also see the total value in parts of both ingredients (36.0 parts).
Using our Pearson's square values we can compute the percentage of each ingredient in the ration:
- For Corn we have: (19.0 / 36.0) x 100 = 52.78%
- For Groundnut cake : (17.0/36.0) x 100 = 47.22%
With this, it means that if you want to produce 100kg of dog food with 27% crude protein you will need 52.78kg of corn and 47.22kg of Groundnut cake. What if our ingredient also has beans and fish meal which we also want to use in our formulation how to we go about it?

Formulating the dog food with more ingredients
Here we will use all the 4 ingredients listed previously. We are going to mix these ingredients in our preferred proportion and determine their combined crude protein before we delve into the square.
- 30% Fish meal with CP 60.9% = 18.27
- 70% Groundnut cake CP 46% = 32.20
Protein in High protein mix is 50.47% (adding the above values)
- 65% Corn CP 10% = 6.50
- 35% Beans CP 23% = 8.05
Protein in grain mix is 14.55%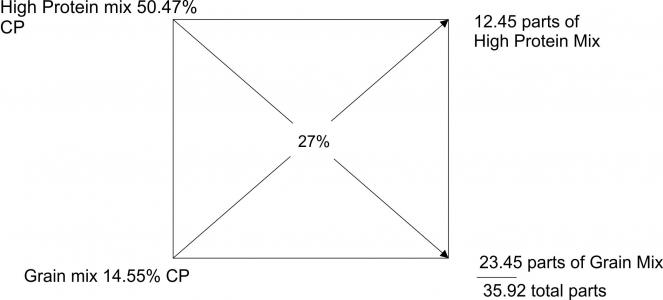 Now let us calculate the parts in the ration of each of the ingredients using the values from our Pearson's square:
- 12.45 parts x 30% = 3.74 parts of fish meal
- 12.45 parts x 70% = 8.72 parts of Groundnut cake
- 23.45 parts x 65% = 15.24 parts of Corn
- 23.45 parts x 35% =8.22 parts of Beans
Totaling 35.92 parts
With the above values, you can now calculate the percentage of each ingredient required for your chosen quantity. From the above our new dog food containing fish meal, groundnut cake, corn & beans will require:
- (3.74/35.92) x 100 = 10.41% of fish meal
- (8.72/35.92) x 100 = 24.28% of groundnut cake
- (15.24/35.92) x 100 = 42.43% of corn
- (8.21/35.92) x 100 = 22.86% of beans
When you sum up the percentage of each ingredient you get approximately 100%. So the combination of these ingredients in the above percentage will give us 27% crude protein for our complete dog food formulation. It's best to weigh in kilograms (kg) each of the ingredient using your percentage values considering the quantity you have to produce at a time mix them properly and grind them in the mill.
Storage
I recommend you store this dog food away from high moisture and away from rodents or rats. These rodents can ruin all your effort by urinating on the food while feasting on it. Weevils are other pests that attach this food so make sure the milling process was very hygienic. I also recommend you produce dog food that will last for only 1 month or 30days.
Preparation
You cannot serve the food just like that because these dogs are not chicken or goat that eat these things raw. You have to prepare it by boiling some hot water and adding the raw food and steering for some minutes. You can also add palm oil for coloration. Prepare according to the quantity and consistency (thickness) you want to prepare or that is preferred by your dog. Beware of the aroma so that you are not tempted to eat your dog food yes it smells like some African meals (just kidding).
It's has been a long and complicated ride here. Don't worry if you didn't understand the calculation just read it again and try pressing your calculator it will start sinking in. Thank you for reading please leave your comments or suggestions below.