---
8 most aggressive dogs to own in Nigeria
By
Kodichukwu Okonkwo, DVM
| March 11th, 2014
---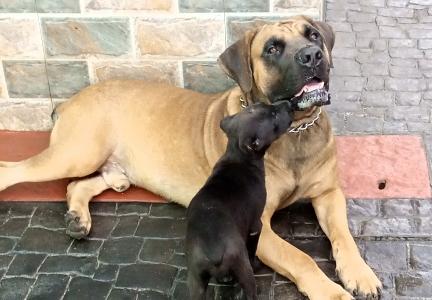 Rottweiler
Only the breed name Rottweiler or "Rott" for short sends shivers to anyone that knows this breed in Nigerian. Originating from Germany they have a characteristic black & tan color, well built with large paws and big jaw. Stories fly around about encounters with this deadly breed especially of its aggressiveness. It might surprise you to know that many owners of this breed can't get close to them while in some cases only the owners can handle them. This breed gets more aggressive as they grow older. They may not be a good choice for a family with children.
Pit bull
Of all breeds this breed is feared due to their strong jaw. Usually come in white color mixed brown and sometimes black. Many countries have banned this breed due to many cases of merciless bite wounds shared among victims. Pit bulls can be very gentle but when feeling threatened can be deadly. Nigerians that own this breed usually acquire them due to this attribute. I have seen cases where this breed killed all the other dog breeds in the house and the owner got confused about continued ownership.
Bull mastiff
Very muscular and well built dog breed. They come in tan color with black trim at the muzzle sometimes brindle color all through. Their wide jaw can be compared with that of a Rottweiler but slightly bigger or shaped differently. You have to acquire muscles to be able to handle a bullmastiff during evening walks. Choke chains might be your savior if you lack the much needed strength to handle a fully grown bull mastiff. Bull mastiffs can be timid at times but when aggressive can be very deadly.
Caucasian
Talk of the very hairy massive dog. Caucasian dog is the reigning dog breed in Nigerian presently because they are considered to be friendly with children and their owners and will not tolerate strangers. Caucasians will keep barking and struggle to be let out to devour the stranger. A closer watch is needed for this dog because when they stand on their hind limbs they can be taller than an average human height and equally weigh high. Nigerians still crop the ears of their Caucasians for aesthetic reasons.
German shepherd
Alsatian as its often called in Nigeria is the most popular dog in Nigeria. In fact this name is used to identify exotic or foreign dogs by most Nigerians living in the rural areas. One characteristic of this breed is the noise maker personality. They often chase invaders away with their voice barking as a warning. Well trained German shepherds can be a family member owing to their loyal and obedient nature. Good with kids. Aggressive ones however can do damages the owners won't believe.

Neopolitan Mastiff
Always drooling saliva due to their mouth conformation. This breed is among the ugliest dogs in the world with an "Old-man" face. They can weigh as much as 60kg, very gentle to their owners but unpredictable when they see strangers.

Great Dane
Great Dane is the tallest & maybe the biggest dog the world over. Few Nigerians own this breed due to its unpopular nature. A full grown Great Dane can be almost twice taller than an average human being standing on their hind limbs. Like the Neapolitan mastiff they can be very gentle with the owner or handler but unpredictable when confronted by a stranger.
Boer boel
This South African breed of dog recently gained acceptance in Nigeria which I believe it's due to its close resemblance to the bull mastiff. Mostly appear in tan color and sometimes brindle color. Boer boels are known to be aggressive as they get older but very playful as puppies. Some owners of this breed had to put down their dog (euthanize) due to a progressive increase in aggressiveness even to the owner especially when socialization was little at puppy stage. Walking this dog can be a challenge owing to their excessive energy.