---
Male
Boerboel Puppy Puppy

₦ 80,000
Age:
5 years 1 month old
Location:
Lagos, Ipaja, Lagos State, Nigeria.
Date of Birth:
2018-02-28
Description
---
6 week and 12 weeks Boerboel pups for sale. well feed and vaccinated. Kindly call for more info
---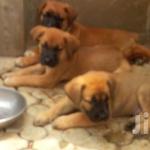 Golden Peak Kennel and Farm
Member Since: April 3rd, 2018
Location: 15 Unity Street, Igando, Alimosho, Lagos mainland
Click
here
to Learn how to Sell your dog anywhere in Nigeria.