---
Keeping Japanese Spitz with a bigger dog can be a real trouble
By
Kodichukwu Okonkwo, DVM
| August 11th, 2020
---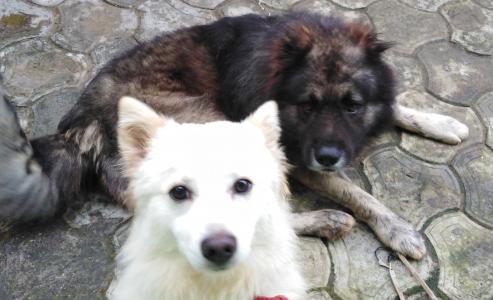 I am not against Japanese Spitz dogs as a breed, in fact, I love them for their security sense and their elegance structure. They are some of the easiest dogs to maintain cos they eat little as adults and are a very strong breed. My only concern is the fact that they refuse to acknowledge their size and strength. They are always ready to fight bigger dogs especially the intimidating-looking dogs.
One of our clients who live in Maitama, complained bitterly after she decided to add two of this breed to her dog collection. She thought that Ace, her 3-year-old German shepherd dog, was lonely and needed some friends to keep him company. She did not know that she just bought herself some trouble.
Snow and Winter, the Japanese Spitz rejected Ace and formed a gang against him at first sight. The owner thought it must be the first time and that they will get along later. That night was a horrible one for both our client and her neighbors. Ace was seriously restless and wanted to find those little aggressors and maybe tear them apart. He barked all night while the Spitz responded from the balcony upstairs.
I was called the next morning to manage Ace's wounds which he sustained scratching the walls maybe in an attempt to climb the walls to reach that duo. He was bleeding profusely from those nails because he filed the nails to their limits with the scratching action. The cleaners also had a hard time cleaning the blood from Ace which painted a large portion of the walls.
Deep within me, I knew that those Spitz will never stop because I have had reoccurring cases similar to that one. Snow and Winter were eventually removed from that house and peace returned to that neighborhood.
In fact, as I write this article, a Japanese Spitz in our Kennel onboarding has been challenging my own Caucasian. Paul the Spitz has always charged at Rex the Caucasian Shepherd. The strategy is that both of them must be locked so that I and my neighbors can sleep at night because Paul can bark all night at Rex.
Ramsey my other Spitz did a similar drama that forced me to give him away. I needed Rex to move around the house at night but Ramsey never let him, so I made that unfortunate decision. I had peace for a month before I was called to pick up Paul for boarding again. My wife and I were seriously troubled because we knew what was coming. Whenever Paul went home after spending time in our boarding kennel we always breathe a sigh of relief but when he comes back…
It's worse when a female is on heat. Pebbles a Lhasa Apso dog was also onboarding while Ramsey was still around. Pebbles entered her heat period and the worst erupted. Ramsey and Rex used to be friends before that incident and that turned everything around. They fought several times and gave themselves serious injuries. Sometimes I would think Rex will kill Ramsey but Ramsey always maneuvers his way out of his grip and when I try to hold Rex, Ramsey would go for his back legs and that will make Rex try to attack me.

Seriously, I don't know why those dogs are like that. I am tempted to conclude that they charge at bigger dogs to warn them not to try attacking them. I noticed at the early stage that Ramsey would charge at Rex and Rex would try to avoid him. I thought it will remain like that but down the line, it became a different ball game.
I write this article to make you aware of this behavior and to leave you better informed when you think of adding this breed to your kennel or home where a bigger dog already resides.