---
Rich dog owners are bad people...
By
Kodichukwu Okonkwo, DVM
| June 8th, 2020
---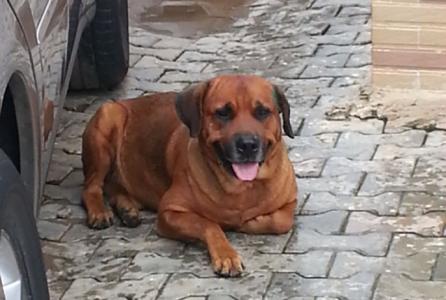 I was live on WE FM 106.3 in Abuja with some other animal lovers talking about dogs and other animals. The discussion was centered on a quote by Mahatma Gandhi which says that - The greatness of a nation and its moral progress can be judged by the way its animals are treated - We discussed the quote as animal lovers and later the phone lines were opened for listeners who may like to join the discussion to air their own opinions.
50 percent of the callers were talking about the Nigerian elites that own dogs, especially the very rich ones that keep security men at their gates. They were virtually angry with these dog owners saying that they care more about the animals than the human beings that work as their security men. One of the callers made mention of a man that will take his dogs to the animal hospital every now and then but will not ask the security man how he is doing.
He continued to say that the man would ignore his sick security men but would take his dogs to the vet each time they have small problems health-wise. He called these kinds of men wicked and heartless for attaching more importance to dogs than human beings that secure them every day. He made mention of the kind of expensive food these dogs are given while the security men are hungry and underpaid.
While listening to this caller, waiting to answer him, I reflected on my conversations with numerous security workers who showed this anger to their masters and actually told me personally during the course of my job as a vet. Many of them, in anger, did so many things to these animals to make their masters spend more on the dogs as a punishment to their masters. Some of them will intentionally refuse to feed the dogs or give medications to them.
The question is: Is it evil to own dogs and care for them appropriately?
Many dog owners that discovered this hatred by some security men stopped using security men and would sometimes move to estates with a central security outfit while they use their dogs as internal security. The point is that these animals are completely dependent on the owner for everything, both food, and health. The health status of a dog depends on the care he receives from his owners completely so if the dog becomes sick, the owner has to be observant enough to do something about it or he might lose the dog.
The angry person sometimes is not the security personnel but might be a relation or the house help that should feed that dog and report any changes observed. Some of them will intentionally refuse to say anything to the owner until the owner accidentally discovers or when the dog dies. In fact, in one case the help said that she felt the dog was rejecting food so she kept leaving the food for him so that when he becomes very hungry he will eat the food by force but unfortunately the dog died.
In many cases, our clinic (fairvet Animal Clinic) is engaged on retainership to monitor the dogs and report their health status directly to their owners. So many dogs have been restored to good health and good living because we report our sincere observation despite the fact that someone might be offended by it.
The point here is that these animals are in the total care of the owner and should be treated the way the owner would treat their own children and relations because they are living things with emotions and feelings that can be affected when they are sick or starved.