---
A dog found me...
By
Kodichukwu Okonkwo, DVM
| April 3rd, 2020
---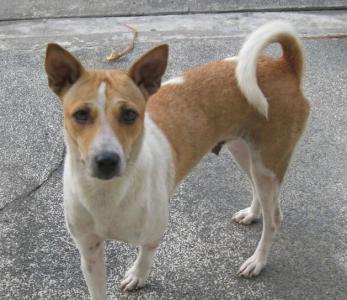 As the Coronavirus scare was dominating every activity globally and as a shutdown of human activities was still being adopted by affected countries including Nigeria, all schools, Markets, Religious activities, Night clubs, sports centers have all been shut down in Abuja when this family called in for a house call regarding their dog. The man reported massive tick infestation on their dog, the kennel and the entire environment.
We got there and proffered our solution to the tick infestation but during the whole process of examination and treatment we got into a "dog stories conversation". The man, his wife, and their teenage children were all present, of course, the coronavirus shutdown is in place and kept everyone at home. The conversation continues; the man first mentioned that he never liked dogs as a young man but something happened that made him start to like dogs.
He moved into a new area, an estate where virtually everyone in his street had a dog at least. He comes back late from work (11pm at night) almost every day that period. His neighbors' dogs were always barking and harassing him from their gates as he passes through the street on foot towards his house. This barking happened for several days until one day a dog started to follow him from around the gate as he walked home. At first, he thought the dog would want to attack him but the dog was just following him. As he moved along the street he observed that when any of those dogs barked at him the dog behind him would growl at them and they will keep quiet. Sometimes, the dog will run to those peoples' gates to bark back at their barking dog and still return to follow him. And when he got to his own gate, the dog would stop and wait while he opened the gate and entered his house. The dog keeps wagging his tail, showing friendliness and would turn back when he shuts his gate. This happened several times.
Afterward, the dog would pay him a visit and he would give the dog food and treats. He just felt like he owed the dog some returned favor. The dog later spent more time at his place than the owners place. He developed some love for dogs from that moment until he married a wife that loved dogs more than he does.
Then his wife said: "A dog found me". I didn't understand at first what she meant. She continues with her story: "I was 6 months old when our house help was caring for me in front of our compound. The help was called inside for an errand and she left me alone in front of the compound with nobody to look after me. I strayed into the nearby bush and slept off there. The help returned and behold I was no longer there. She ran to my parents to report. Everyone started to search for me to no avail. Much later that day the dog that used to hang around the compound ran into the house and was barking for my mother to follow him but she didn't understand the signal. The dog used his teeth to grab her wrapper and as she was retracting the wrapper, it tore and the dog still holding a piece of the wrapper in his mouth ran into the bush and in anger, my mother ran towards the dog probably to beat him for tearing her wrapper. The dog placed the piece of cloth on top of me (the lost baby) where I was sleeping peacefully amidst some grass. My mother picked the piece of cloth up and saw me lying there sleeping. And that was how I was found. Since then we always had dogs and I love them so much."
All through the period of the story, she was holding the dog (a female German shepherd dog) we came to examine passionately. Their children (3 girls and 2 boys all teenagers) seem to be familiar with the stories. Two other stories followed after this but let me leave those out in order not to make this article too long and boring. Of course, I listened to all the stories because I love dog stories. Do you have an experience like this? Why no share with us?