---
Dry dog foods that will surprise you
By
Kodichukwu Okonkwo, DVM
| March 6th, 2020
---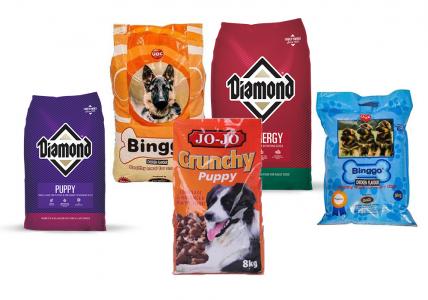 There are so many competing dog food in the Nigerian Market, I am referring to dry dog food here, although I believe that less than 40% of dog owners buy these commercially available dog food. Most clinical cases I come across are nutrition-related. If a dog is deprived of some important nutrients for a particular length of time they tend to come down with some form of clinical illnesses. Remember that these dogs were domesticated so they only eat what was made available for them. Their bodies are able to fight off infections if they are fed the right food which gives their immunity the support they need to resist being overwhelmed by infections.
In my many years of practice, I have come to discover some exceptional dog food that meets this requirement of providing support to body processes and helps these dogs live healthier lives. I had doubts about some dog foods due to the price tag they carry or sometimes the fact that they had little popularity until I was disproved.
Diamond dog food with all its different types came as a cheaper alternative to the Jojo crunchy dry dog food in those days. The selling point was the fact that they come in a larger quantity of 22kg for Diamond high energy, 18 kg for the Diamond puppy, etc., in contrast to Jojo crunchy which only came in 8kg for all its different types be it Economy, energy & puppy.
People preferred the Diamond dog foods because you can budget and buy a bag of dog food that can last a long time but Jojo crunchy did not meet that requirement. Jojo crunchy has been very successful in the market because it was a big relief to dog owners who has no time to cook for their dogs so they just buy this food and dish every morning before going to work, that was before Diamond brands came into the market.
Diamond came with high value in terms of quantity and acceptability and grabbed a huge market share. When you compare the cost, Diamond offered more for less compared to Jojo crunchy and this fact made some people skeptical about the nutritional value, me inclusive. We sold it anyway because the market was there.
The difference between Diamond high energy 22kg & Jojo Crunchy economy was not that much when I tried them with my dogs but the one that exceeded my expectations was the Diamond puppy. Diamond puppy has an inscription on it labeling it as suitable for puppies, nursing and pregnant bitches which I felt was just a marketing strategy.
One of our clients referred his friend who is a medical doctor to our clinic. He just got a Caucasian puppy from a roadside seller. The puppy was not looking good at all. The man brought the puppy for checkup and possibly dewormed and vaccinated. While we were examining the puppy, the man asked if the dog will become very big. Looking at the dog I didn't see that possibility but I know that most roadside dog sellers hardly care for the puppies that sell very well. I told the man to be hopeful that the dog will grow as big as he intends but that the dog should be fed very well and given all the veterinary care required. The man asked me the food he should feed the puppy and I just looked at our shelves and told him to buy the diamond puppy and feed his dog. I insisted that he should use only that dog food because it's imported dog food and it should be able to bring out the best in the dog.
The man paid for the Diamond puppy dog food and used it as I directed. He came routinely to pick the diamond dog food whenever he runs out of dog food. The dog was brought back for deworming and I couldn't believe my eyes. The dog was looking different and big. I asked the man if he was feeding any other food and he said no that he has always been traveling so his security guy was the person that feeds the puppy and it's only the Diamond puppy that he left for the security man. After 8 months the dog was weighing 60kg and he only ate diamond puppy up till that time. The surprise is the type of transformation that took place in that dog.
One other client of ours who lived in the Aso villa had a Rottweiler that was always sick and was looking unfed and I decided to recommend the Diamond puppy. They started using it and after 2 weeks the dog was so strong that he was now becoming troublesome and even killed 2 pigs belonging to the man's father.
The transformations that takes place after recommending this dog food made me single out that Diamond puppy (the purple bag).
I have used Diamond High energy that comes in 22kg bag but I don't see the difference between it and other dog food like Binggo adult 15kg manufactured by UAC Nigeria. Diamond High Energy is mainly for maintenance and not for recovering dogs or puppies from my own trial and experience. My main problem with Binggo Adult 15kg is that many times the food is not up to 15kg. Sometimes 13kg or 14kg. I have complained and gotten tired of complaining.
Jojo crunchy puppy is also comparable to Diamond puppy very closely just that it's not economical as at that time. Today in year 2020 Diamond puppy has practically doubled in price compared to the early period but its value remains intact.
Comparing Diamond Puppy and Binggo puppy, I found out that Diamond puppy has better value for money than Binggo puppy. What I do is to mix a 3.68kg Diamond puppy to a 10kg Binggo puppy and use for puppies and I still get a good result. I do this just to reduce the cost.
I had a problem with Diamond high energy when two Caucasians I fed the food started stooling diarrheic poop and each time I withdrew it the dogs become normal but when I gave my little pug (peach) nothing happened, no stooling or vomiting. I will attribute that to individual differences or some other factor because I have used it several times after that experience without any bad result.

Dog food that is currently new in the market called ActivePet for Adult dogs packaged in 15kg showed a promising trend because it was as affordable as Binggo then, my dogs accepted it readily but after 4 days they started to purge. I withdrew the food and returned to Binggo and after 2 weeks I tried the ActivePet again and after 4 days the purging happened again which made me stop feeding with it. The problem is that it was not dogs of the same breed that purged but all the dogs. Despite that, people were buying the dog food from our shop and they never complained. I guess it might be a storage problem from the source.
Have you used these dog foods or other brands not mentioned here? Please tell us about your discovery. Which one gave you the best result and which one did not? Let us know in the comment below.
Disclaimer: All I wrote here is strictly based on my observation and not intended to promote any dog food against the other. I was not paid to write this.