---
How to stop your bitch from eating up her newborn puppies
By
Kodichukwu Okonkwo, DVM
| January 22nd, 2019
---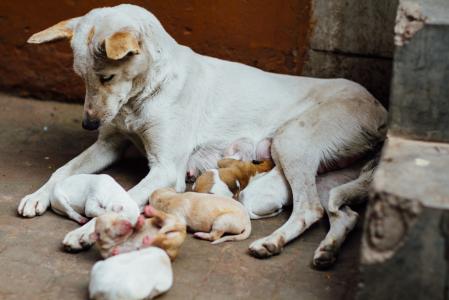 We have received several reports of bitches eating up their newborn puppies and some of our clients have attributed these to excessive starvation and others to spiritual pervasion. One of our clients just discarded her bitch that did this, saying that the dog might even eat humans or children.
One of our clients who relocated from Abuja to Port Harcourt called me one afternoon to complain that her bitch is giving birth (whelping) but while licking the puppy ended up eating both the puppy and placenta. She was actually afraid to go close to the dog. There was serious panic in her voice. I had to help her calm down and asked her to find someone with enough courage to handle the dog.
I directed the man she called to help to separate the puppies as they come out during delivery. He was doing that before the lady mustered the courage to join him and eventually took over from him. She separated them and wiped them with a clean towel as I directed. She eventually started complaining that the bitch kept trying to reach the puppies as they cried.
I told her to prepare the ground with some beddings and to lower the puppies to their mother while monitoring her to see if she will eat any of them. Surprisingly, the bitch didn't eat the puppies. She allowed the puppies to breastfeed without issues. The puppies we are talking about now are about 7yrs old each. The two of them. The bitch never ate her puppies in her subsequent deliveries.
We have applied this same process in several other bitches and succeeded except one bitch that gave birth at night twice and before morning she had consumed all her puppies. The annoying thing is that she will seem to be looking for her babies when day breaks.
After so many of this cases, I came to a conclusion that the bitch probably didn't know the difference between the placenta and the baby as a first timer and would eat up everything while trying to separate the baby from the placenta.
I would suggest that you keep a close watch at your first time pregnant bitch to meet her when she starts to deliver the puppies in other to apply the suggestions above. You will end up teaching her the difference between the placenta and puppies if she is confused. This will help you to save the newborn puppies from being eaten up by their own mother. Thank you.