---
Femi Fani-Kayode the inspiring dog lover
By
Kodichukwu Okonkwo, DVM
| June 30th, 2017
---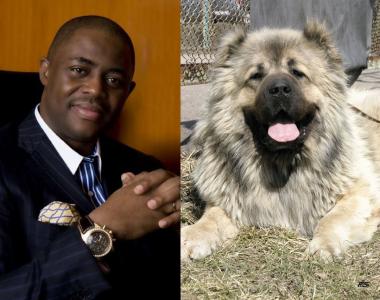 The Nigerian former aviation minister, Femi Fani-Kayode popularly known as FFK has been very popular for his continuous criticism of the present (Buhari) Government on issues such as lying to the masses and false certificate submitted to the INEC (Independent National Electoral Commission). He was the chief campaign person for the defeated incumbent president of Nigeria President Goodluck Jonathan. Just to give a brief background.
On a personal basis, I saw this man as an unnecessarily loud politician until I met him personally as my services as a veterinarian was sort for by him.
FFK has several dogs that are 'perfectly' cared for. In fact if there is an extra thing that can be done to improve the lives of his dogs he will ensure that it is done and done immediately. The same goes for the people that work for him especially the people in charge of the welfare of his dogs.
From my experience working for politicians FFK is an exception which I actually tested because I insisted that he shows commitment before I render my services to him which prompted him to summon my presence to meet him personally. He told me how he actually respects the lives of every living thing created by God. In fact before he finishes five sentences the word 'God' must have appeared three times at least.

One of his dogs suffered a terminal illness and was really in great protracted pain during which he tried everything he could do to save that dog including consulting other veterinarians and running several tests before we finally decided to euthanize the dog. He really regretted this because he really loved the dog. The dog was a mastiff with brindle color.
The day of the euthanasia was the one I will not forget at a flash. It was around 7:30pm at his residence. He (FFK) actually came out in person said a very long prayer. He included gratitude to God for the dog and many other supplications. The prayer lasted for about 30mins. From his prayer I could see how he loved the dog and how he was going to miss the dog. After the prayer, he asked me to go ahead with the euthanasia whose injections I had with me waiting for the prayer to finish. After the injections and the dog was going down, prayers continued still led by him again but this time speaking some other tongues and languages which will be familiar to any Pentecostal worshiper. I am trying to be brief here.
FFK may have love for Mastiff breeds of dogs and Caucasians in my opinion from the breeds he keeps and these dogs are given names like Favor, Joy, Peace, Liberty etc. I believe he can tell you the behavior of each dog and problems they have ever had growing (my opinion).
I write this article not to glorify FFK but it amazes me to meet people of his caliber having such love for their dogs and giving them and their handlers the best of care. I only wish many of our politicians will have this kind of mindset towards their dogs and also to the people that work for them the way FFK does because I saw a team of people who can take a bullet for him (FFK).
I must say here that my mentality towards FFK was not the same after my encounter with him, my life was transformed not only towards dogs and animals but towards people that work and ever worked for me. I don't know your opinion about FFK but when you meet him you will be affected by him humility and frankness (even flattery).
Disclaimer
This is to state that Mr. Femi Fani-Kayode or anyone related to him did not contract me to write this article. I wrote this article because I was personally inspired to write it. If he frowns at this article and asks for it removal it will be removed.