---
Female
Rottweiler Puppy Puppy

₦ 250
Age:
6 years 7 months old
Location:
Lagos, Ipaja,Ayobo,Lagos state..
Date of Birth:
2017-07-07
Description
---
A breeding 2months old big bone micro chipped female pedigree rott puppy with documentations and vaccination card for sale in Lagos.
---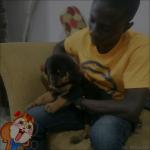 Adeyeye Gbenga
Member Since: September 10th, 2017
Location: 30,yemi Adekunle street ,alaja road ,ayobo,lagos
Click
here
to Learn how to Sell your dog anywhere in Nigeria.