---
Female
Rottweiler Puppy

₦ 65
Age:
6 years 4 months old
Location:
Oyo, Ibadan .
Date of Birth:
2016-09-20
Description
---
Full breed beast Box head Rottweiler puppies (the father was imported from Germany in 2013)and fully vaccinated for sale at affordable prices. This is the best full breed Box head rottweiler puppies u can ever have .. Contact me on on BBM - D1D1C0E4, whatsapp - 09073493007, or via mobile - 09073493007 for more details and pictures. Summerflame by Name... 6weeks old and affordable prices. Contact me on whatsapp for more pictures... Have both male and female available
---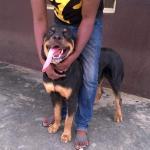 Samson Summerflame09
Member Since: October 26th, 2016
Location: Ibadan
Click
here
to Learn how to Sell your dog anywhere in Nigeria.