---
Male
Cane Corso Puppy

₦ 180,000
Age:
7 years 9 months old
Location:
Abuja, Gudu District.
Date of Birth:
2015-11-18
Description
---
Pure Cane Corso male puppy for sale. This is a puppy you will enjoy to own because it grows massively. Just make the move NOW! Price is negotiable.
---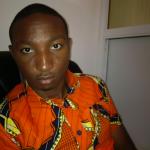 Kodichukwu Okonkwo
Member Since: August 18th, 2016
Location: Abuja
Click
here
to Learn how to Sell your dog anywhere in Nigeria.