Pure German Shepherd puppies for sale, very fluffy male and female pups for sale at very affordable prices.
Forsale
Dog
German Shepherd
Abuja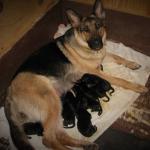 Ikeja, Lagos, Nigeria
Member since June 20th, 2018
07083268639
---
Message Seller
---
Basic Information
Breed / other :
German Shepherd
Medicals up-to-date :
yes
Advert Details
We have very solid German Shepherd puppies for sale, at 3 months and above, we can also provide below, whatever age and gender you desire we have them here. All with a 100% health guarantee.